Stage Interclubs le 18 Mai a Chatt Mami - route Metline/Bizerte
de 8h30 à 12h30
Le 29 sep inter-clubs a bizerte.
de 9h a midi.
lieu:maison des jeunes sidi salem- bizerte
(37.281463, 9.877819)
(+37° 16' 53.27", +9° 52' 40.15")
programme:kumijyo et taijutsu....
seminaire d'aikido dirigé par
Hiroaki Kobayachi
le 22, 23 et 24 octobre
Lieu :salle federale cité des jeunes el Menzeh ,tunis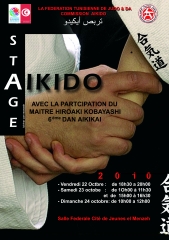 la nouvelle version de webmartial
Webmartial : arts martiaux, sports de combat, mma, free fight, combat libre
Cérémonie en hommage à TAMURA Shihan le 4 septembre 2010 à partir de 15h30 à BRAS.Les personnes qui se sont inscrites afin de participer à cet hommage peuvent trouver sur le site de l'Ecole Nationale d'Aïkido www.ena-aikido.com
sous la rubrique "Comment y accéder" des informations utiles à leur venue.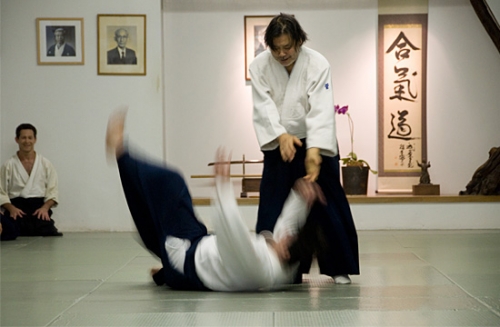 * C'est avec une énorme tristesse que je vous annonce le décès de
Sugano Shihan,
survenu à New York le 30 août 2010. Après avoir marqué à jamais notre pratique de l'aïkido et notre vie, et après avoir relevé tant de défis à force de courage, Sensei a finalement franchi le pont qui se tient entre la terre et le ciel. Un hommage lui sera également rendu en Belgique.
concernant Seiichi Sugano: (1939, né au Japon) a commencé à étudier l'art de l'Aïkido à l'âge de 18 ans. Il débute rapidement une vie d'apprenti sous la tutelle directe du Fondateur de l'Aïkido, Ueshiba Morihei.Aujourd'hui, il est 8ème Dan (Niveau) et a le titre de Shihan (Maître parmi les Maîtres) au sein de l'Ueshiba International Aïkido Foundation au Japon. Pendant ces années d'études au Japon il a également étudié le Boudhisme Zen dans un Temple.En 1965, il est envoyé par le Fondateur en Australie pour créer la Fédération australienne d'Aïkido dont il est toujours le Président aujourd'hui. Il a étudié et est certifié en Acuponcture. Il a aussi été l'élève d'un Maître Zen Chinois et a été initié comme moine sous le nom de « EKAI ». Il a également vécu dans un monastère Tibétain en Himalaya.Treize ans plus tard, il est venu vivre en Belgique et enseigna l'Aïkido en Europe qui compte à l'heure actuelle beaucoup de ses adeptes.En 1988, il est parti s'établir à New York (où il réside encore à l'heure actuelle) et y poursuit l'enseignement de l'Aïkido. Il y étudie et pratique également l'escrime et a participé à d'innombrables compétitions du Championnat National et de la NAC.Au-delà de ses enseignements au niveau international, Sugano Shihan est encore un membre éminent du Superior Council de la Fédération Internationale d'Aïkido.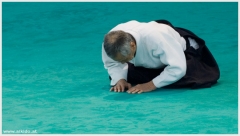 *Décès de Tamura sensei
vendredi soir 9 juillet 2010 vers 19h.
En ce moment le monde de l'aikidô est en deuil, un monstre sacré de l'aikidô vient de disparaître. Il s'agit de sensei Nobuyoshi Tamura, 8ème dan d'aikidô (ayant refusé le 9ème).
Dojo en syrie
Master Class 2010

à Bruxelles
Minoru Akuzawa Senseï
Le Maître de l'Aunkai

Le principal intérêt de la méthode d'Akuzawa senseï est qu'elle s'attaque à un travail de fond, au-delà de la technique. Une façon d'apprendre à utiliser son corps qui permet ensuite de réaliser plus efficacement les gestes des voies que l'on suit et dans lesquelles les méthodes de développement ont parfois été oubliées.

L'Aunkaï est une méthode de Bujutsu Tanren. Les exercices enseignés permettent de développer la conscience du corps, d'en construire l'armature, d'en développer le cœur, l'essence.
Un travail vraiment exceptionnel…
25 et 26 mai 2010 de 19h30 à 22h00
Participation : 35€ le cours/60€ deux cours
Ces stages sont ouverts à toutes disciplines et pour tous niveaux.
Lieu:
Dojo ACEPO
Rue Metsys, 91
1030 Bruxelles
Kono Senseï
Le dernier des Budokas

Yoshinori Kono est sans conteste le Budoka le plus célèbre du Japon.Capable d'améliorer les performances de sportifs de haut niveau ou le jeu de musiciens professionnels grâce à l'utilisation du corps selon les principes du Bujutsu, il est surtout un pratiquant d'exception excellant aussi bien dans le travail aux armes qu'à mains nues.
Un enseignant à découvrir absolument…
23 juin de 19h30 à 22h00
Participation : 45€
Ces stages sont ouverts à toutes disciplines et pour tous niveaux.
Lieu:
Dojo ACEPO
Rue Metsys, 91
1030 Bruxelles
Note ami
Farouk Benouali
dirigera un stage aikido-Bukiwasa
le 12 ainsi que le 27-28 & 29 decembre à Lyon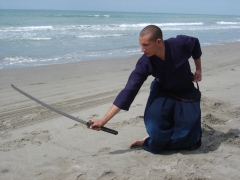 Photo du stage aikido à Sfax avec Michel Benard sensei & Bruno Both

la famille aikido est en deuil:

Jean-Yves LE VOURC'H

est décèdé
Pour la première fois une equipe tunisienne participera officiellement au championnat du monde du

kenpo

à BOUKHARESTE la ROUMANIE du 26/10/2009 --31/10/2009 ,l'equipe est composée de nos amis du Shaolin Budo center la gazelle ainsi que nos amis du centre sportif du nord ( Bizerte ).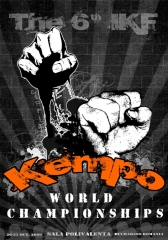 Tunisie : Michael Jackson dans nos salles de cinéma
«This is it», le tant attendu film documentaire sur Michael Jackson sera, mercredi 28 octobre, dans les salles de cinéma en première mondiale. Exceptionnellement, les fans tunisiens du King of Pop pourront regarder le film à peine 2 jours plus tard. Parce que «This is it» sera projeté en Tunisie dans 5 salles de cinéma, le vendredi 30 octobre. Ce documentaire sera projeté aux salles suivantes de la capitale : Hannibal d'El Manar, le Colisée au centre ville de Tunis et Alhambra à El Marsa. Ceci en ce qui concerne les salles de la ville de Tunis. Mais les régions ont aussi pris part aux droits de diffusion puisque le film défilera à partir de la même date au cinéma «Le Palace» à Sousse. A Sfax, c'est «l'Etoile» qui scintillera en projetant cette œuvre cinématographique tant attendue.
Ces informations nous ont été confiées par Quinta Distribution, société de l'incontournable producteur tunisien Tarak Ben Ammar. Rappelons que ce dernier, ami intime de Michael Jackson, était le manager du king of pop de 1996 à 1998. Il a même produit Michael dans une tournée mondiale de 52 concerts dont un mémorable show qui a eu lieu en Tunisie le 7 octobre 1996 au stade d'El Menzah. Inscrit dans le légendaire History World Tour, ce premier concert que Michael Jackson ait donné en Afrique a réuni 60 000 personnes et a marqué les mémoires de toute une génération. Selon Quinta Distribution, le film sera disponible aussi dans les centres culturels et les théâtres municipaux.
Des centaines de milliers de fans attendaient le retour de Michael Jackson sur scène pour «This is it» annoncée comme sa dernière tournée. , la star avait prévu 50 concerts à Londres, 1 150 000 sièges.25 juin 2009, la légende du pop nous a quitté et la tournée a été, bien évidemment, annulée. Peu de temps après, c'est un film qui a pris l'intitulé de la tournée.
Ce film documentaire réalisé par Kenny Ortega se veut un témoignage rare sur l'interprète en train de développer, créer et répéter pour ses concerts - tous complets - qui auraient dû se dérouler à l'O2 Arena de Londres. Chronique des mois d'avril à juin 2009, «This is it» est tiré de plus d'une centaine d'heures de séquences filmées en coulisses, présentant Michael Jackson répétant plusieurs de ses chansons pour le spectacle. En aout 2009, la Cour supérieure de Los Angeles a approuvé un accord entre AEG Live, le promoteur de la tournée This Is It, et Sony Pictures concernant la succession des droits d'auteur sur les séquences filmées en préparation de la tournée. L'accord permet à Sony Pictures d'éditer des centaines d'heures d'images moyennant un versement de 60 millions de dollars pour les droits cinématographiques. Il a été confirmé que les séquences qui seront sélectionnées seront en 3-D. De plus, le film comprendra une rétrospective de la carrière de Michael Jackson ainsi que des entretiens avec d'anciens amis de la star. La bande-original du film «This Is It», sortira en CD, le 26 octobre 2009. Au final, les producteurs du film permettront au public d'avoir un regard privilégié sur ce génie du show lorsqu'il mettait les dernières touches à son spectacle… désormais posthume.
d'après
www.Tekiano.com
compagne publicitaire pour notre salle dojo de la gazelle dans
le journal lapresse et le temps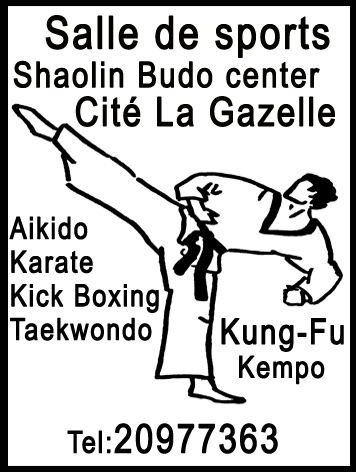 La Troupe japonaise de danse et de musique traditionnelles
« Ryûjin» est en Tunisie
A l'occasion de la tenue de la 33ème Assemblée générale du Conseil international de la musique qui se tiendra à Tunis, du 15 au 22 octobre 2009, l'Ambassade du Japon organise, en collaboration avec le Comité culturel national, un spectacle musical, le lundi 19 octobre 2009 à 19 heures, à la Maison de la Culture Ibn Rachiq.
Célèbre groupe de tambours, de danse et de musique traditionnels d'Okinawa, un petit archipel situé à l'extrême sud du Japon, « Ryujin », rendra visite en Tunisie à partir du 17 octobre 2009 avec ses cinq artistes renommés.
Aikido seminar in istanbul
with
Nebi vural sensei
31 october - 1 november 2009
Boğaziçi Üniversitesi
la nouvelle serie

Karma kula the Mysthic warrior
http://karmakula.ign.com/
Gamers Week à El Menzah
Une semaine de jeux vidéo, ambiance conviviale et des cadeaux. C'est ce que propose la communauté Tunisia Games du 16 au 23 Octobre prochain à El Menzah 1. Un village de tentes accueillera la manifestation et sera mise en place en face du stade d'El Menzah.
Durant cette semaine, les gamers pourront s'affronter dans plusieurs jeux : StreetFighter, WoW (World Of Warcraft), Need For Speed Shift, Guitar Hero, Dota, Counter Strike, Fifa 10. La compétition se déroulera chaque jour de 16 à 22h au courant de la semaine et de 10h du matin à minuit durant le weekend.
Les cadeaux qui attendent les gagnants vont de mini PC à des consoles de jeux en passant par des téléphones GSM et des cartes de recharges WoW.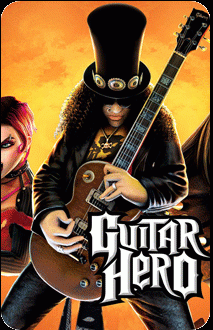 Miz à jours du blog d'Ivan Bel
http://fudoshinkan.over-blog.com
Windows 7
Microsoft joue gros avec la sortie, jeudi, de Windows 7, son nouveau système d'exploitation. Une campagne de promotion titanesque est prévue, avec notamment une saga de neuf spots à la télévision dès le lancement, ainsi que 1 400 journées de démonstration à travers la France. En magasin, Microsoft a formé 5 000 conseillers pour donner un coup de pouce aux ventes de son nouveau système d'exploitation. À Paris, la marque a même ouvert un Windows Café, lieu éphémère d'information et d'échange sur Windows 7, mais attention : ce n'est pas un point de vente.
ATLAS MUSIC ACADEMY 2009 – 1ère Edition
http://www.hammam-ensa.com/details_articles.php?cat_id=45&art_id=831
La 1ère Edition du Stage et du Concours des jeunes pianistes organisée par ATLAS (Association Tunisienne pour le Leadership, l'Auto développement et la Solidarité), le Laboratoire Afro-Asiatique d'Art et de Culture en partenariat avec l'Ambassade de Pologne en l'honneur du 200ème Anniversaire de la Naissance de Frédéric CHOPIN en 2010 s'est terminée en beauté, le Samedi 21 Novembre 2009 au Palais Ennejma Ezzahra à Sidi Bou Saïd.
C'est dans ce lieu magique qu'est la Maison duBaron d'Erlanger et en présence de nombreuses personnalités et bien sûr de leurs familles que chaque enfant a eut le privilège d'interpréter un morceau. Les jeunes ont aussi reçu leur attestation de stage et pour les participants au Concours, leur diplôme et leur prix (pour les premiers).
Les invités ont été accueillis par M. Mounir HINTATI, le maître des lieux, Directeur du Centre Ennejma Ezzahra - Centre des Musiques Arabes et Méditerranéennes (CMAM). Après les allocutions de M. Krysztof OLENDZKI (Ambassadeur de Pologne), de M. Mohamed ZIN ELAABIDINE (Représentant du Ministre de la Culture), de M. Ahmed CHOUBANI (Commissaire de la culture à Jendouba) et de M. Salah Brik El HANNECHI (Président d'ATLAS - Fondateur et Dir. du Festival ATLAS), Mme Fusun GURAY – REGAIEG (Dir. Artistique du Festival - Présidente du Jury du Concours) a présenté les enfants.
Enfin après une présentation des activités de l'Association ATLAS et un diaporama de photos du stage qui s'est déroulé du 1 au 9 Août 2009 à Beni Mtir, place à la musique avec au programme :
Mohamed CHERIF (8 ans) - Niveau Initiation
GAZOUILLIS D'OISEAUX (AARON) -DANSE INDIENNE (AARON)
Mériem RAJHI (8 ans ½) – 9 ans le jour du Concert ;-) - 1er prix Niveau Débutant
NOVELETTE (GURLITTE) - CHANSON FRANCAISE (TCHAIKOWSKY) -INNOCENCE (BURGMULLER)
Zeïneb MASMOUDI (12 ans) - Niveau Préparatoire
SONATINE en sol majeur (L.V. BEETHOVEN)
Inès GHOZZIA (9 ans) - Niveau Débutant
RONDE (B. BARTOK)
Wafa MBARAK (17 ans) - Niveau Préparatoire
PRELUDE (KABALEWSKY)
Inès TABKA (11 ans) - 2ème prix Niveau Préparatoire
POLONAISE en Si b Majeur (F. CHOPIN)
Mériem GHOZZIA (13 ans) - Niveau Élémentaire
BARCAROLLE (F. MENDELSSOHN)
Taher BOUZAKOURA (14 ans) - 1er prix Niveau Élémentaire
MAZURKA op 67 n°1 et 2 (F. CHOPIN)
Omar ATTIA (13 ans) - 2ème prix Niveau Élémentaire
HUMORESQUE op 6 (M. LEVIN)
Nada MESRATI (15 ans) - 2ème prix Niveau Moyen 1
MAZURKA op 67 n°4 (F. CHOPIN)
Meysoun SAHBI (20 ans) - Niveau Moyen 1
NOCTURNE op 55 n°1 (F. CHOPIN)
Tarak CHABAANE (16 ans) - Niveau Supérieur
ARABESQUE (C. DEBBUSY) -FANTASISTUCK AUFSCHWUNG (R. SCHUMAN)
Selma BAROUNI (14 ans) - 1er prix ex aequo Niveau Moyen 2
VALSE op 64 n°2 (F. CHOPIN)
Miriam MBARAK (18 ans) - 1er prix ex aequo Niveau Moyen 2
FANTASIE-IMPROMPTU (F. CHOPIN)
Sélim MRAD (17 ans) - 3ème prix Niveau Moyen 2
VALSE op 64 n°1 (F. CHOPIN)
Slim SELLAIMI (23 ans) - 2ème prix Niveau Supérieur
PRELUDE op 3 n°2 (S. RACHMANINOV)
Syrine MELITTI (22 ans) - Niveau Supérieur
IMPROMPTU op 142 n°4 (F. SCHUBERT)
Stéphane SAITTA (18 ans) - 1er prix Niveau Excellence
BALLADE n°1 (F. CHOPIN) -ETUDE op 10 n°12 (F. CHOPIN)
Sans oublier les deux jeunes du Conservatoire de Jendouba qui ont fait le voyage pour jouer avec leurs amis du stage de Béni Mtir et se sont joints au programme :
- Souheil (17 ans)
- Azza Maaroufi (18 ans) – Sonate au Clair de Lune (L.V. BEETHOVEN)
Une belle soirée et en tous cas de merveilleux souvenir pour tous les enfants, leurs familles et leurs proches.
Merci encore aux PARTENAIRES & SPONSORS de la 1ère Edition : Ambassade de Pologne - Gouvernorat de Jendouba - Ville de Béni Mtir - Auberge de Jeunesse de Béni Mtir- Commissariat Régional à la Culture - ATLAS (Association Tunisienne pour le Leadership, l'Auto développement et la Solidarité)
Un grand merci aussi à : BANQUE DE L'HABITAT - AGIL - SONO MUSIC

RV pour la 2ème Edition du Stage et Concours pour les jeunes pianistes de 6 à 25 ans à Béni Mtir - Stage & Concours du 15 au 24 Juillet 2010
>> Stage du 15 au 22 Juillet 2010
- Participants : 50 jeunes maximum
- Lieu : Beni Mtir (village à 650 mètres d'altitude, à quelques kilomètres d'Aïn Draham).
- Hébergement : Auberge de Jeunesse de Béni Mtir (douches à chaque étage sur le palier, chambres non climatisées)
- Encadrement : 3 Professeurs de piano étrangers + 3 Assistants spécialisés
- 6 heures de cours de piano sont garanties
Programme Musical : par degré avec limites d'âge*
Programme d'Animation :
- Yoga méditation, Yoga zen : chaque matin sous la direction d'un spécialiste.
- Excursions et animations quotidiennes diverses
- Cours de piano gratuits pour les enfants de Béni Mtir prodigués par les élèves les plus expérimentés
Et nouveautés pour cette 2ème Edition avec la mise en place d'un chantier social (aide aux plus démunis) et d'ateliers au choix (théâtre, aïkido ou apprentissage à la réalisation de savons, eaux aromatiques et d'huiles essentielles à base de plantes de la région de Aïn Draham).
Concours : Pré-sélection le 23 Juillet 2010 - Concours le 24 Juillet 2010
Par degré avec limites d'âge (un morceau imposé et un morceau au choix dans une liste prédéfinie par les organisateurs*).
Objectifs : Soutenir l'intérêt grandissant parmi les jeunes tunisiens au piano et élargir les horizons de la musique en Tunisie
* Le programme détaillé et les œuvres par degré avec limites d'âge vous seront envoyés sur simple demande au 97 445 922 (seulement l'après-midi) ou par mail fusun.guray@hotmail.com
Pour en savoir plus :

-
Programme complet du concert du 21 Nov. 2009 et infos pour la 2ème Edition du Stage et du Concours des Jeunes pianistes en 2010 program_concert_erlanger_21nov2009.pdf
,
- Stage & Concours de Piano - Pour les jeunes pianistes de 6 à 25 ans
- Chopin à Beni Mtir, en pleine forêt… - 1ère Edition du Stage et concours de piano pour les enfants de 6 à 25 ans
- ATLAS - Association Tunisienne pour le Leadership, l'Auto développement et la Solidarité -
http://www.hammam-ensa.com/details_articles.php?cat_id=71&art_id=894
- Le CMAM (Centre des Musiques Arabes et Méditerranéennes) -
http://www.cmam.nat.tn/fo/fr/index.htm et http://www.culture.tn/html/institutions/cmam.htm
Extrait du site http://www.hammam-ensa.com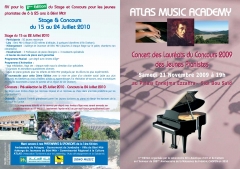 compte rendu d'après Kapitalis
http://www.kapitalis.com/kultur/40-musique/1090-tunisie-chopin-a-beni-mtir.html
Nuit des Arts Martiaux Traditionnels
Nuit des Arts Martiaux Traditionnels (NAMT) aura lieu le 14 novembre à l'Institut du Judo et réunira à nouveau un groupe de maîtres exceptionnels.3h de démonstrations avec les plus grands maîtres des arts martiaux et pour la première fois en démonstration Hino Akira, le fondateur du Hino Budo
Voici la liste des participants:
Hino Budo

Hino Akira

Shorinji Kempo

Hiroshi Aosaka 8°dan

Aïkibudo & Katori Shinto Ryû

Alain Floquet 8° et 7°dan
Shodokan "Tomiki" Aïkido
Tsuchiya Satoru 6°dan

Aïkido
Léo Tamaki 4°dan
Taï Ki Ken
Sawada Mitsuharu

Uechi Ryu Karaté
Yukinobu Shimabukuro 9°dan

Taï Chi, Hsing I et Pakua

Kunlin Zhang 7°dan
Kyokushin Karaté

Fabrice Fourment 3°dan

Aïkido et Iaïdo
Philippe Cocconi 5° et 4°dan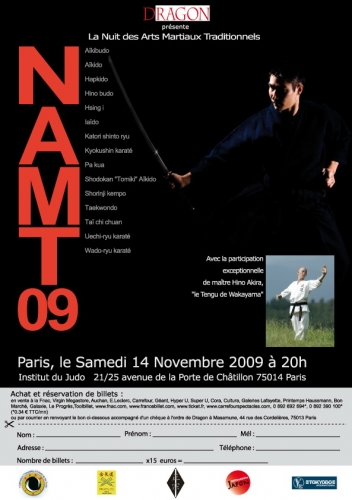 Stage ouvert à tous avec
Hino Akira sensei

Dimanche 8
Dojo Kikentai, 9h30 à 12h, 14h30 à 17h

Samedi 14
Dojo d'Herblay, 9h30 à 12h
Dimanche 15
Dojo Kikentai, 9h30 à 12h, 14h30 à 17h
Tarifs
½ journée 35
Journée 70
Préinscriptions
-Dimanche 8: 50€
-Samedi 14 et dimanche 15: 75€
-Stage complet (totalité des Master Class et cours supplémentaires): 180€
Cours supplémentaires
Attention, ces cours sont limités en nombre et réservés aux membres des dojos où ils ont lieu et aux participants des Master Class.
Lundi 9
Dojo d'Herblay, 19h30 à 21h30
Mardi 10
Dojo Archereau, 20h30 à 22h30
Jeudi 12
Dojo d'Argenteuil, 19h15 à 21h15
Vendredi 13
Dojo d'Argenteuil, 19h à 21h
Tarifs (par cours)
20€
Lieux
Dojo d'Herblay
Chemin de Chennevières
95220 Herblay

Dojo Kikentai
145 avenue Jean Jaurès
75019 Paris
Dojo Archereau
61, 63 rue Archereau
75019 Paris
Dojo d'Argenteuil
Gymnase Paul Vaillant Couturier
Rue Grégoire Collas
95100 Argenteuil
Les préinscriptions peuvent d'ores et déjà être adressées par chèque à l'ordre de Shinbudokaï à Masamune, 44 rue des Cordellières, accompagnées de votre nom, prénom, adresse e-mail, discipline(s) pratiquée(s).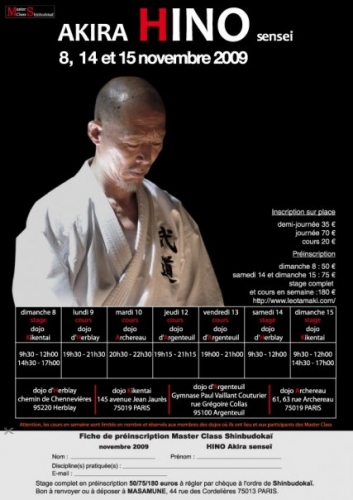 Photo du rassemblement de l'asociation sahelienne d'aikido
à l'occasion du 7 Novembre 2009
le cours à ete dirigé par Mr Ezzedine Toumi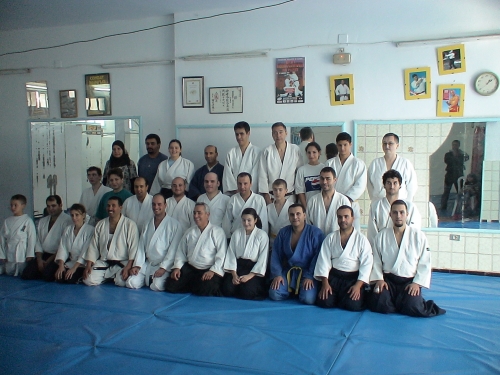 orange tunisie c le 5 Mai